12 of the Most Wholesome Anime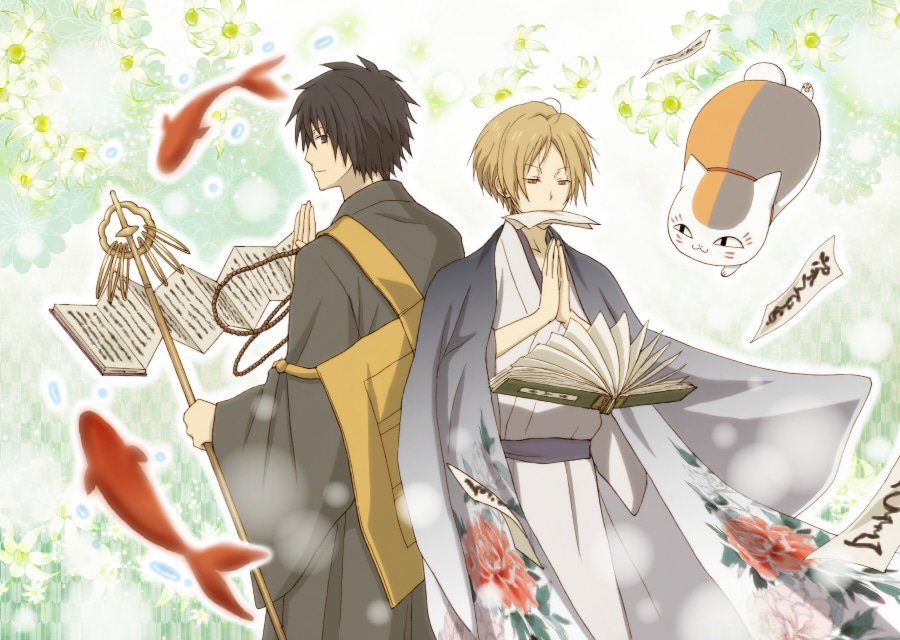 In some cases, we earn commissions from affiliate links in our posts.
Feeling a bit down?
The shows in this collection will give you a warm-and-fuzzy feeling that is sure to lift your spirits! Look elsewhere for violence, adult content, stressful situations, and morally gray decisions- these are happily wholesome shows that focus on the good things in life. 
While the characters in these shows do overcome challenges and encounter interesting situations, the tone is kept light and playful. These are shows with uplifting messages, a healthy dose of humor, and an overall sense that everything will be okay in the end.
Are you ready? Good feelings and happy moments are waiting for you!
The 12 Most Wholesome Anime
—————————————————————————————–
Barakamon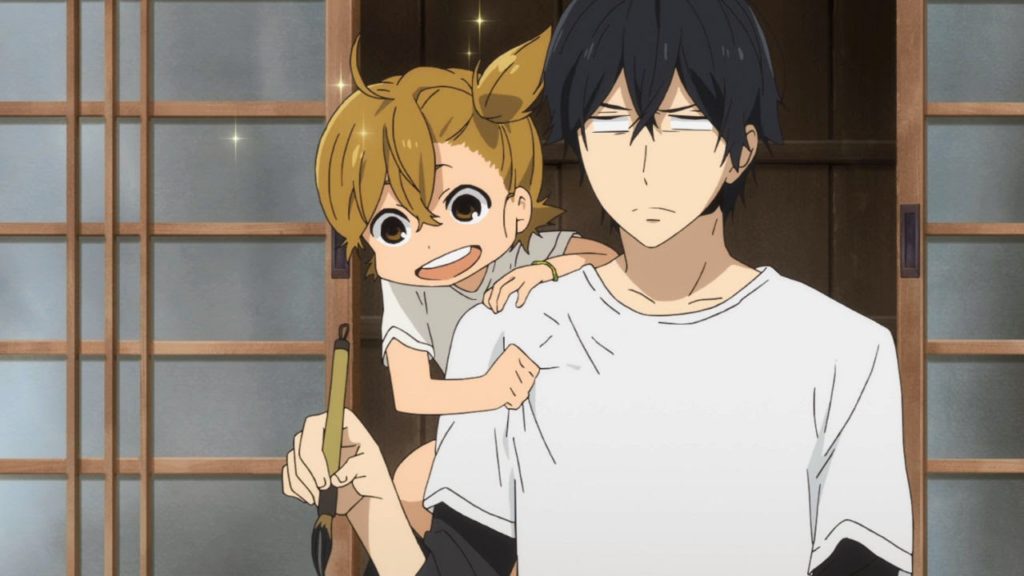 Release: 2014
Episodes: 12
Professional calligrapher Seishu Handa finds himself searching for inspiration for his "boring" artwork on the tiny Goto Island. There, he forms an unlikely friendship with the wild young Naru Kotoishi and begins to see the world through her eyes. Barakamon is a show full of happy moments and life-changing new discoveries. 
Natsume's Book of Friends / Natsume Yuujinchou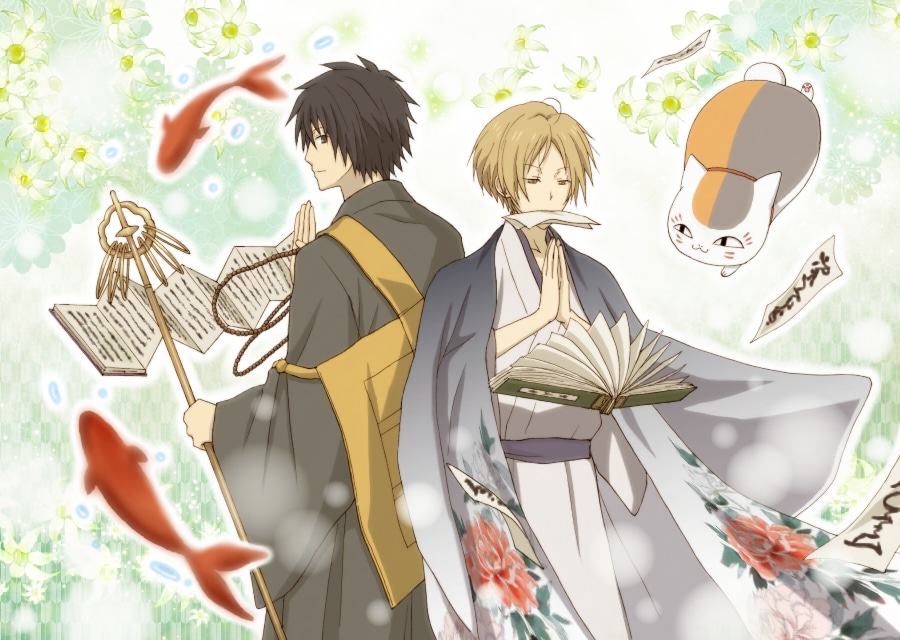 Release: 2008 – 2017
Episodes: 74
Although his childhood was a sad memory, Takashi Natsume slowly to terms with himself and his ability to see the Yokai spirits around him. He decides to help spirits of all kinds- funny, scary, silly, and everything in between- and make new friends throughout his adventures. Uplifting and light, Natsume's Book of Friends is a pleasure to watch!
Silver Fox / Gingistune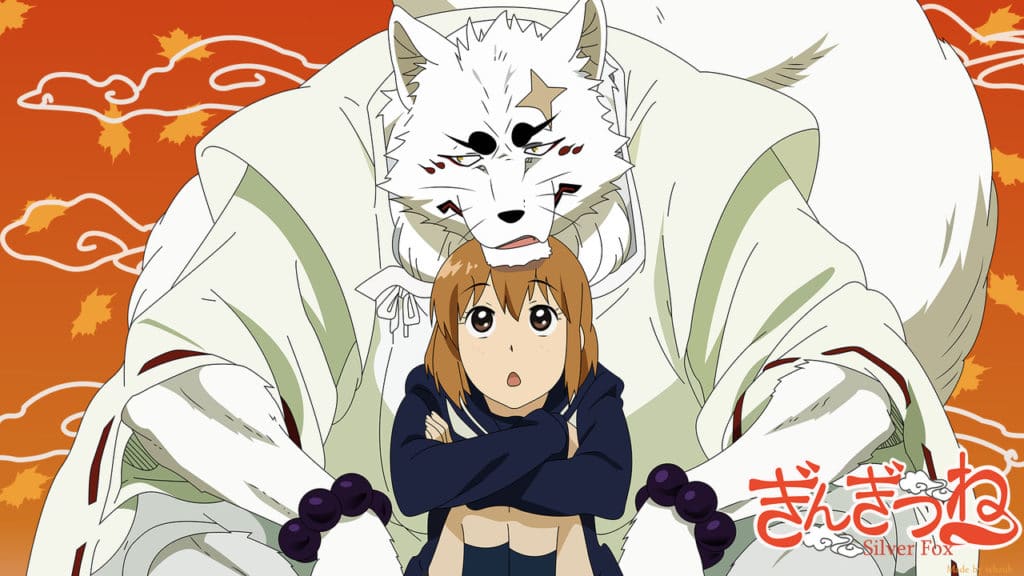 Release: 2013
Episodes: 12
As the heiress to the family shrine, Makoto Saeki has a special ability- she can see and talk with the sacred fox spirit Gintarou. The two form a beneficial partnership to help the humans who come to pray at the shrine and act as a go-between the two worlds of humankind and heavenly beings. Silver Fox follows the silly adventures of Gintarou as he becomes a brotherly figure for the inspiring young Makoto. 
Tsuritama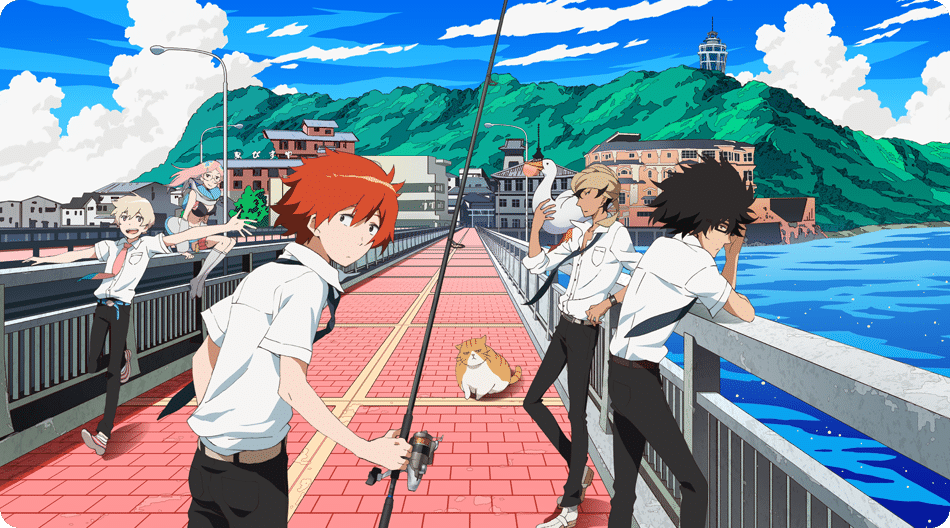 Release: 2012
Episodes: 12
Always drowning in his anxiety, Yuki Sanada begins a new life with low hopes on the island of Enoshima. There, he somehow manages to make unlikely friends with the self-proclaimed "alien" Haru, fisherman Natsuki Usami, and a duck-wielding Indian man named Akira. Tsuritama is a happy tale with lovable characters and inspires viewers to overcome their deepest fears to see what lies beyond. 
The Morose Mononokean / Fukigen na Mononokean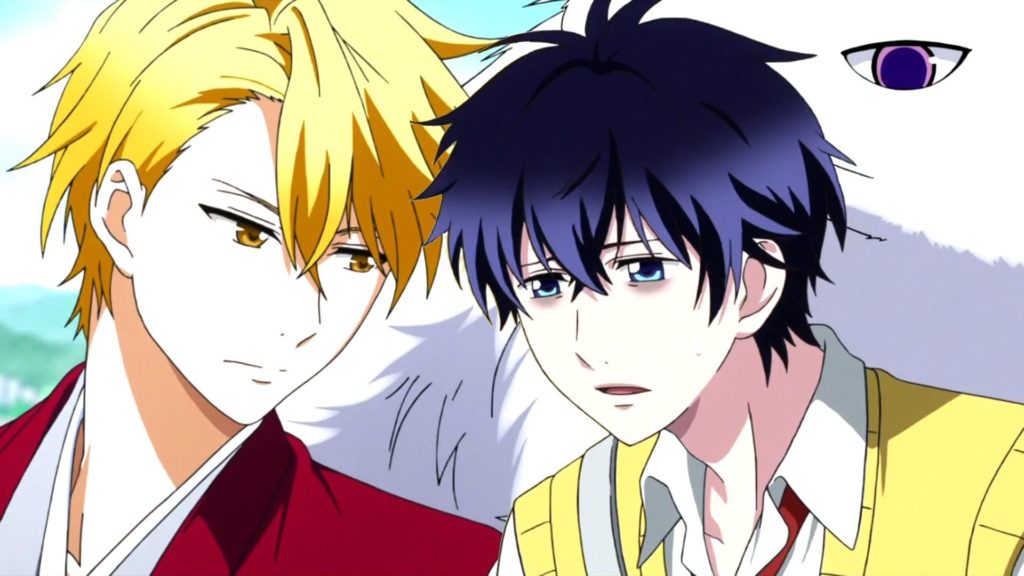 Release: 2016 – 2019
Episodes: 26
Hanae Ashiya discovers the existence of another world when he is possessed by a particularly fluffy yokai spirit. In his attempt to remove the spirit, he becomes indebted to his classmate Haruitsuki Abeno, an exorcist and owner of the Monokoean tea room. The Morose Mononokean is a funny and easy-to-watch show with a diverse group of characters that are sure to bring a smile to your face! 
Ouran High School Host Club / Ouran Koukou Host Club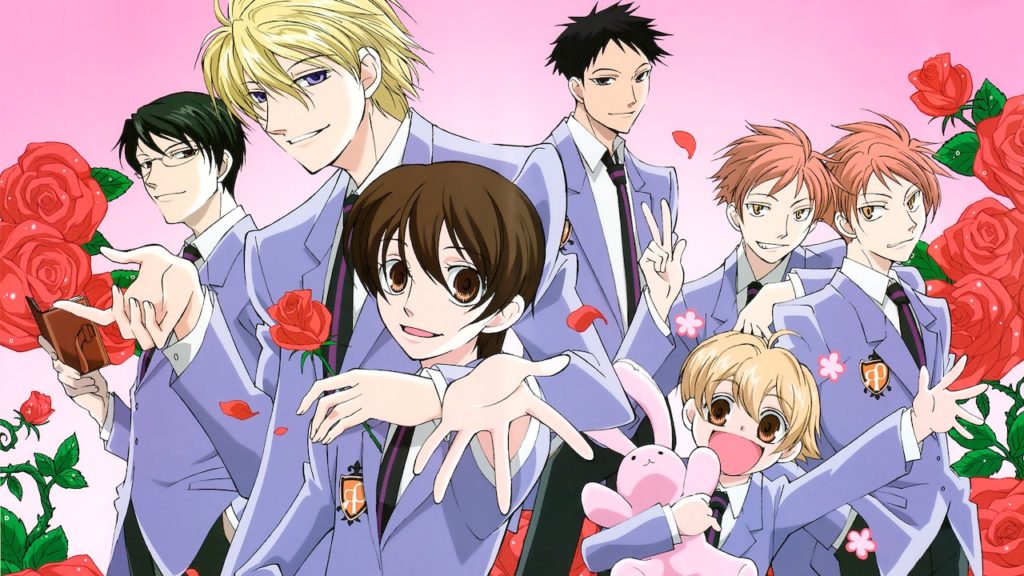 Release: 2006
Episodes: 26
Due to an awkward accident, Haruki Fujioka finds herself working off a debt to a school club by cross-dressing as a host! She must quickly learn how to fit in with the elegant and always-interesting elite members of the club. Ouran High School Host Club is a timeless classic that handles modern issues with grace- the hilarious cast and lighthearted approach will easily win your heart.
Silver Spoon / Gin no Saji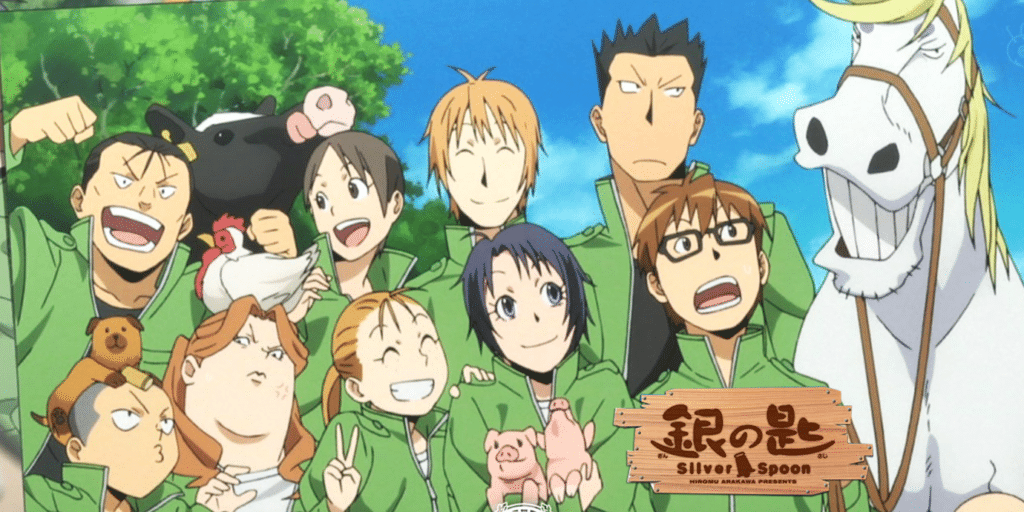 Release: 2013- 2014
Episodes: 22
After a failed high school exam, Yuugo Hachiken goes as far from his family as he can in search of an easy education at the Ezo Agricultural High School. It's the opposite of what he expected- but through hard work, new friendships, and entertaining situations with his friends and farm animals, Yuugo comes to realize some valuable life lessons. Silver Spoon is a coming-of-age story about taking a tough situation and making it into something wonderful. 
Sailor Moon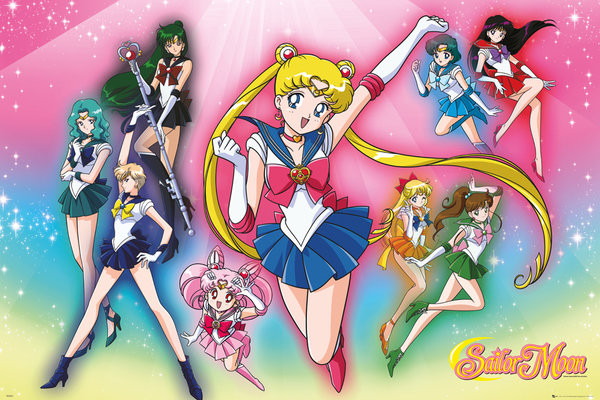 Release: 1992-1997 (original) and 2015-2016 (reboot)
Summary: 200 (original) and 39 (reboot)
Countless adventures await the young Usagi Tsukino as she and the other Sailor Scouts become heroes of the planet. They all must learn to balance the chaos of school, friendships, romances, and growing up in modern society! Sailor Moon is a classic series that focuses on the magical journey of a young girl and her friends finding their way in the world. 
Kamisama Kiss / Kamisama Hajimemashita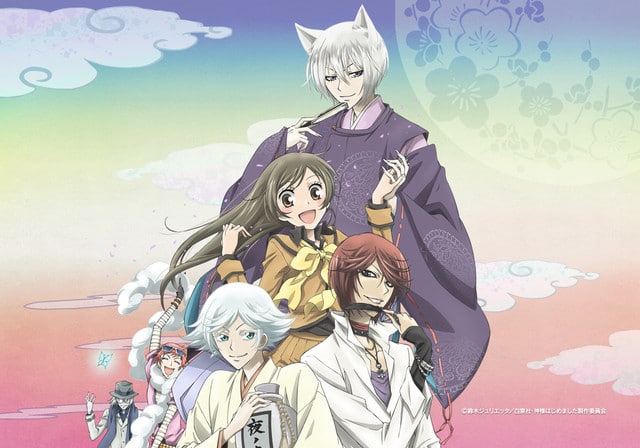 Release: 2012- 2015
Episodes: 25
Nanami Momozono showed a small act of kindness to someone in need- and found herself suddenly the Earth Deity of a local shrine! No longer out of luck or broke, Nanami must now learn how to work with the shrine familiars- including the mysterious and rather grumpy fox spirit Tomoe. Nanami is a lovable protagonist and your heart will grow along with her and the other creative characters in each episode of Kamisama Kiss. 
Polar Bear Cafe / Shirokuma Cafe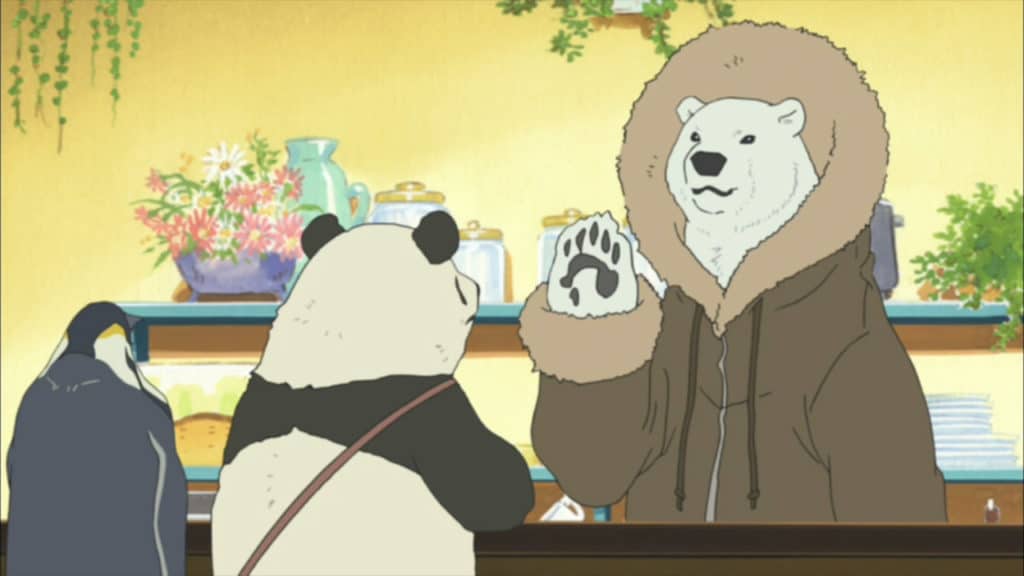 Release: 2012 – 2013
Episodes: 50
Pun-loving manager Polar Bear, lazy Panda, and the cynical Penguin are joined by a large cast of other animals who frequent the neighborhood cafe. The silly and cute story of Polar Bear Cafe covers the everyday lives of the many animals and their relationships with one another. Their jokes and antics are amusing to watch and the show is a sweet domestic comedy. 
Merman in My Tub / Orenchi no Furo Jijou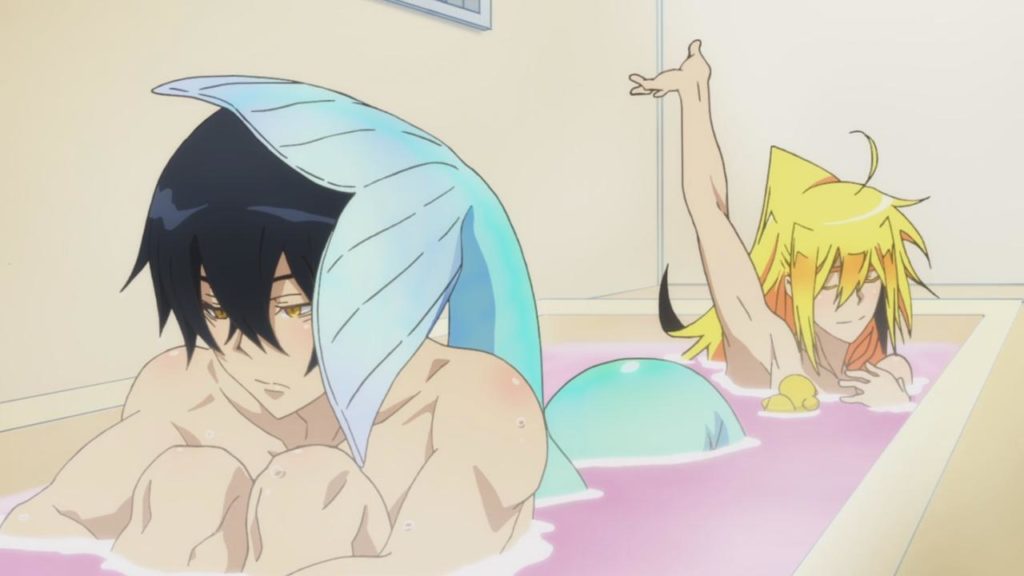 Release: 2014 
Episodes: 13
Kind-hearted Tatsumi rescues the stranded merman Wakasa and allows him to begin a new life in Tatsumi's bathtub. There are many silly shenanigans as Wakasa's sea-creature friends come to visit him in his new bathtub home, making Tatsumi's once dull life now full of excitement! Merman in My Tub is a creative and funny show where kindness is rewarded with thrilling new friendships. 
Keep Your Hands Off Eizokuken! /  Eizouken ni wa Te o Dasu na!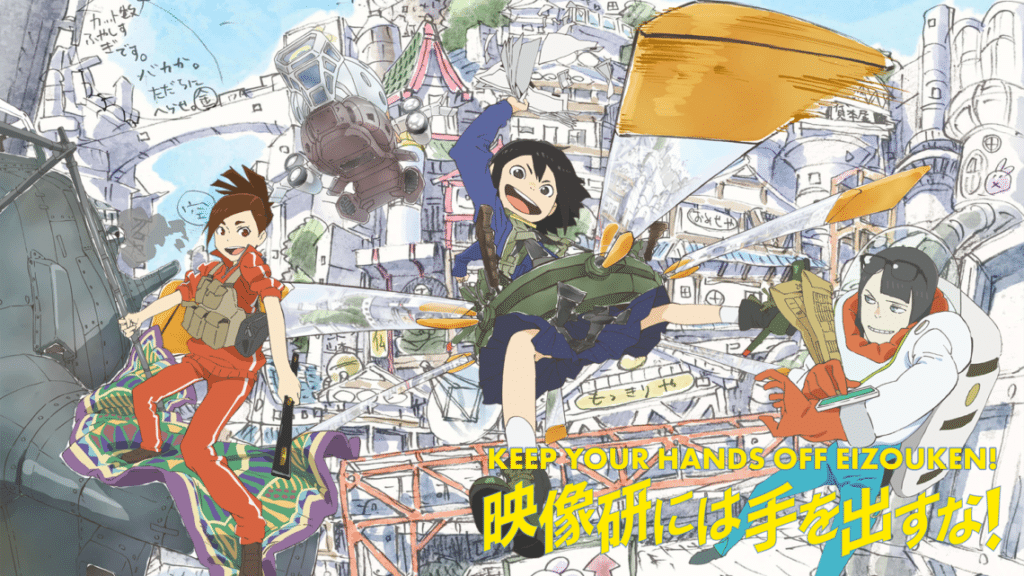 Release: 2020
Episodes: 12
Three high school girls come together with the dream of creating their very own anime. Their combined talents and often very humorous efforts result in the one and only Eizouken- a club where they can make their hidden dreams come to life on the screen! With a host of unique characters and many positive messages, Eizouken is both uplifting and rewarding to watch. 
—————————————————————————————————–
These are just a few of the best shows to cheer you up and remind you of the wonders of life- what other wholesome anime can you think of? What show is your go-to when you're feeling down? Let us know in the comments below!
Happy Watching! 🙂