Japan's Cherry Blossoms: When is Cherry Blossom Season in Japan?
In some cases, we earn commissions from affiliate links in our posts.
A cloud of soft pink petals coating the world in a blanket of springtime joy- it sounds like a fairytale or a scene from an anime. But in Japan, this beautiful dream comes true once a year- during cherry blossom season! Called 桜 sakura in Japanese, cherry blossom time in Japan is without a doubt one of the most famous and celebrated events of the year. 
Read on to learn how you can time your trip right in order to catch the best of the cherry blossom season in Japan.
---
What is so special about cherry blossoms?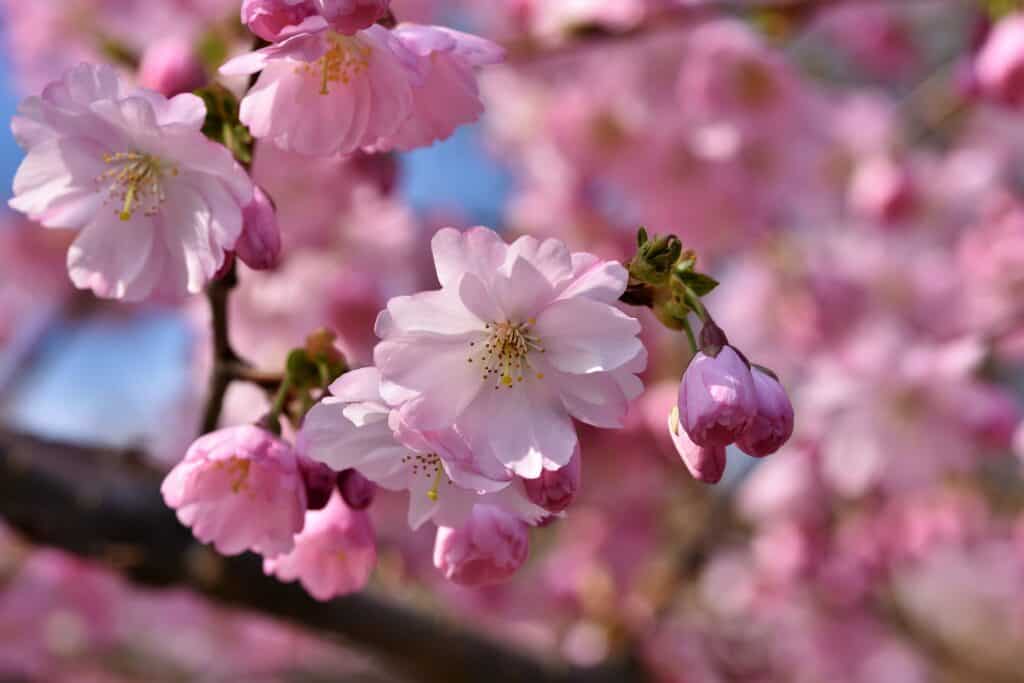 Stunning in photographs and magical to experience in person, the pink star-shaped petals have captured the hearts of people around the world. Although cherry blossoms have built up a fan-base and global reputation over time, nowhere are they more so revered than in Japan.
Cherry blossoms have been a cause of celebration in the Land of the Rising Sun throughout history. Records dating from the Nara Period (710 – 794 AD) show that Japanese people have been taking the time to appreciate springtime blossoms for thousands of years. Today, the Japanese carry on this tradition by enjoying special cherry blossom viewing parties- called お花見 o-hanami in Japanese.
O-hanami parties are picnic-like occasions where friends, family, and even co-workers plan a time to get together and relax under the branches of cherry blossom trees. Pink petals land in hair and teacups as the group enjoys tasty sakura flavored snacks and drinks. It is a memorable way to enjoy this special occasion- so if you are ever lucky enough to get an invite to an o-hanami viewing party, don't miss out! 
When is peak cherry blossom season in Japan?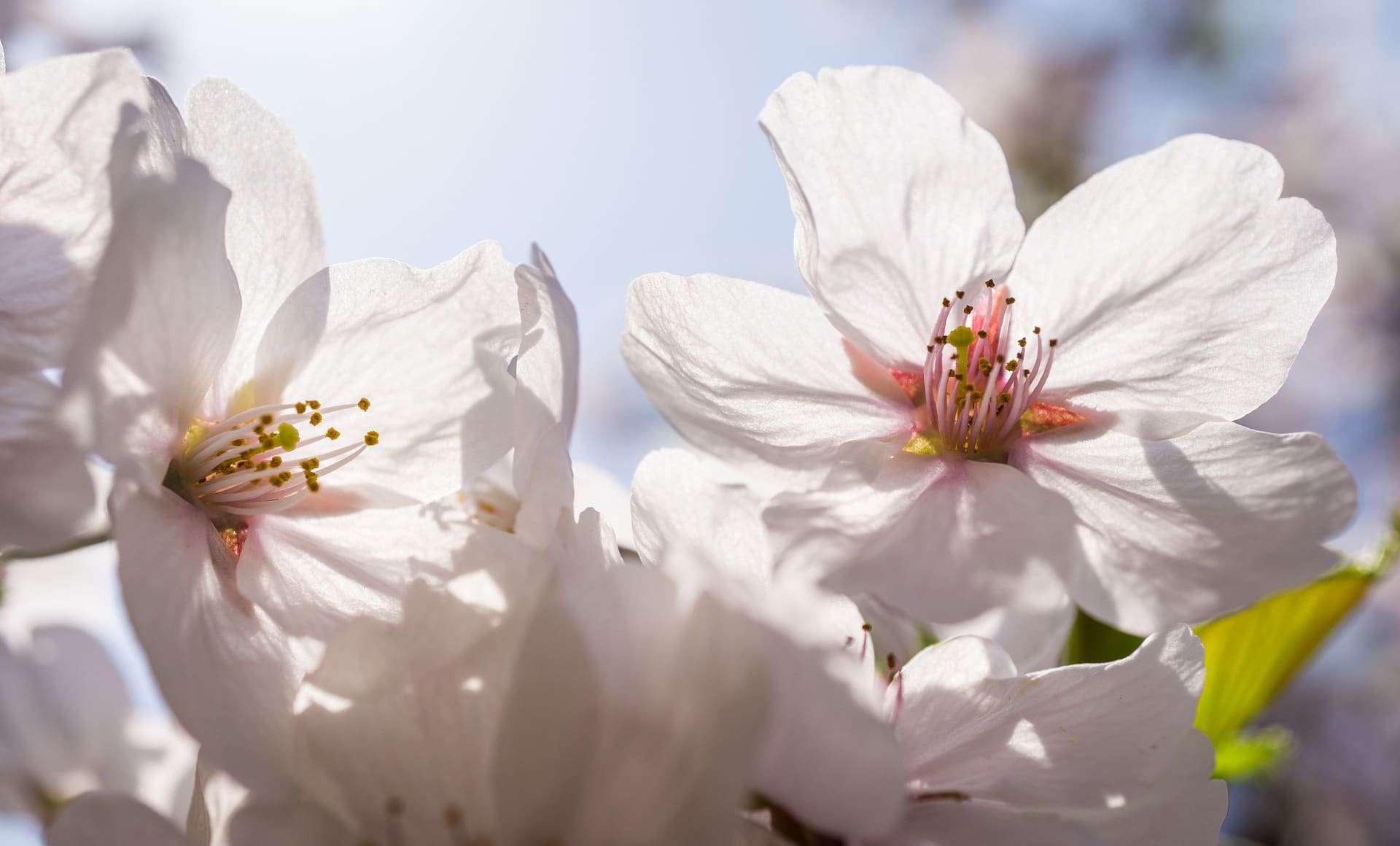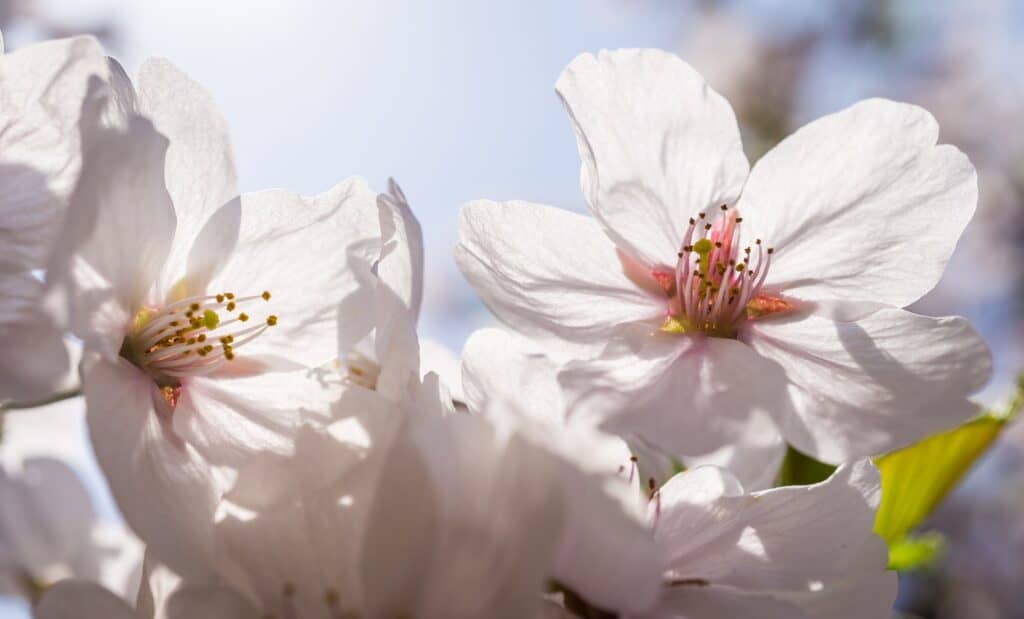 Daydreaming of pink petals falling like snow? Cherry blossom season comes just once a year, so in order to make your dream a reality and experience sakura for yourself, you will need to plan ahead.
Due to Japan's geographic location and different climate zones, cherry blossom season doesn't hit the entire country all at once. Japan is a lengthy archipelago that stretches across different climate zones in the northern hemisphere. This means that in spring, warm weather hits the southernmost parts of the country first, then slowly moves upwards throughout the rest of Japan. 
Cherry Blossom Forecast
Cherry blossoms bloom in the warmth of early- to mid-spring, so they naturally first begin to appear in the south where warm days arrive as early as January. The pink petals open early in Okinawa and flow in a wave up Japan, arriving in Hiroshima, Osaka, Kyoto, Nagoya, Tokyo, and finally Sapporo in the north. 
Since cherry blossoms are a natural event and depend on the weather, the exact dates of when to expect peak blossoms vary from year-to-year. Luckily, in order to help everyone plan their cherry blossom vacations and o-hanami parties, news sites in Japan release a yearly cherry blossom forecast.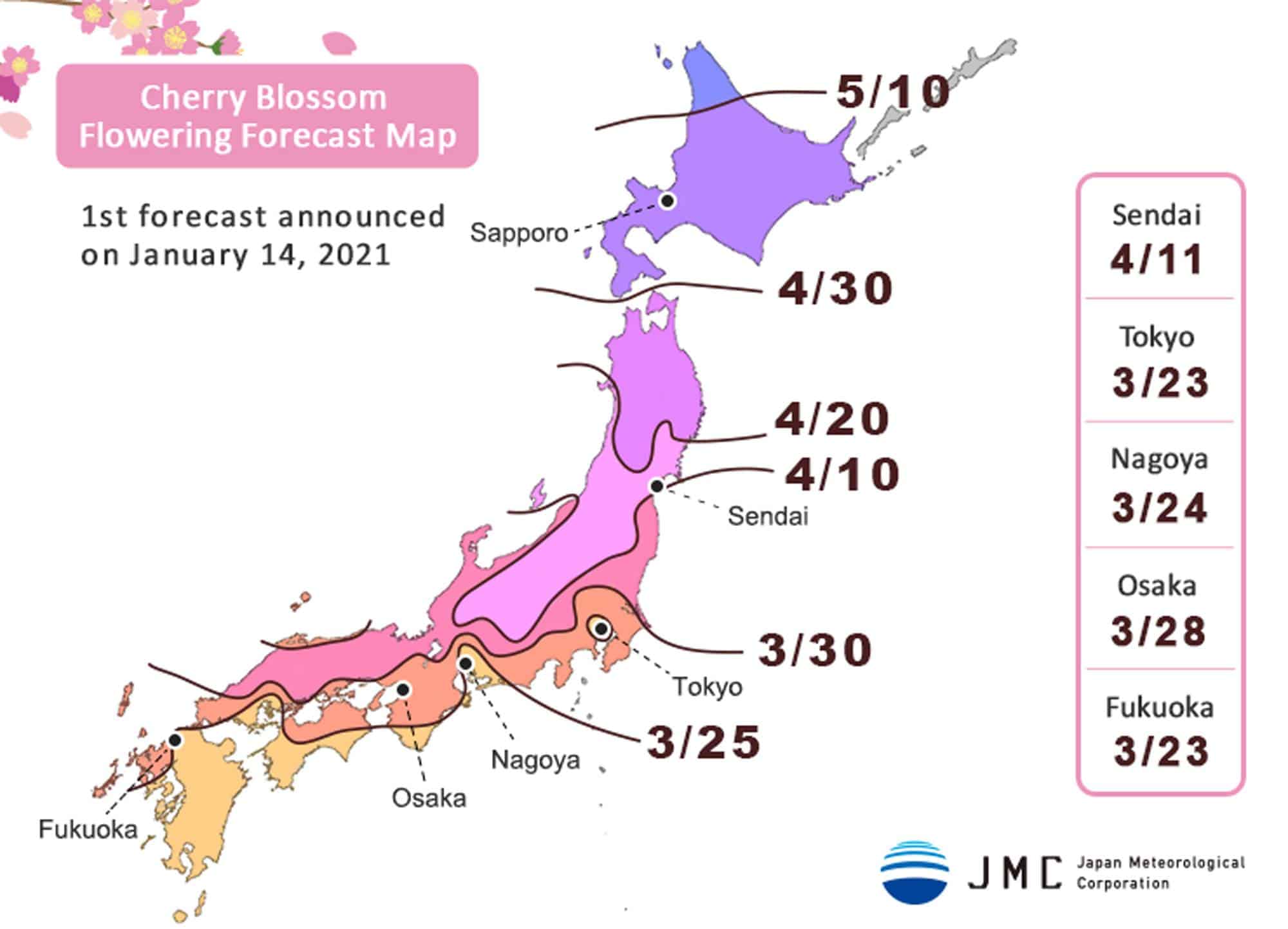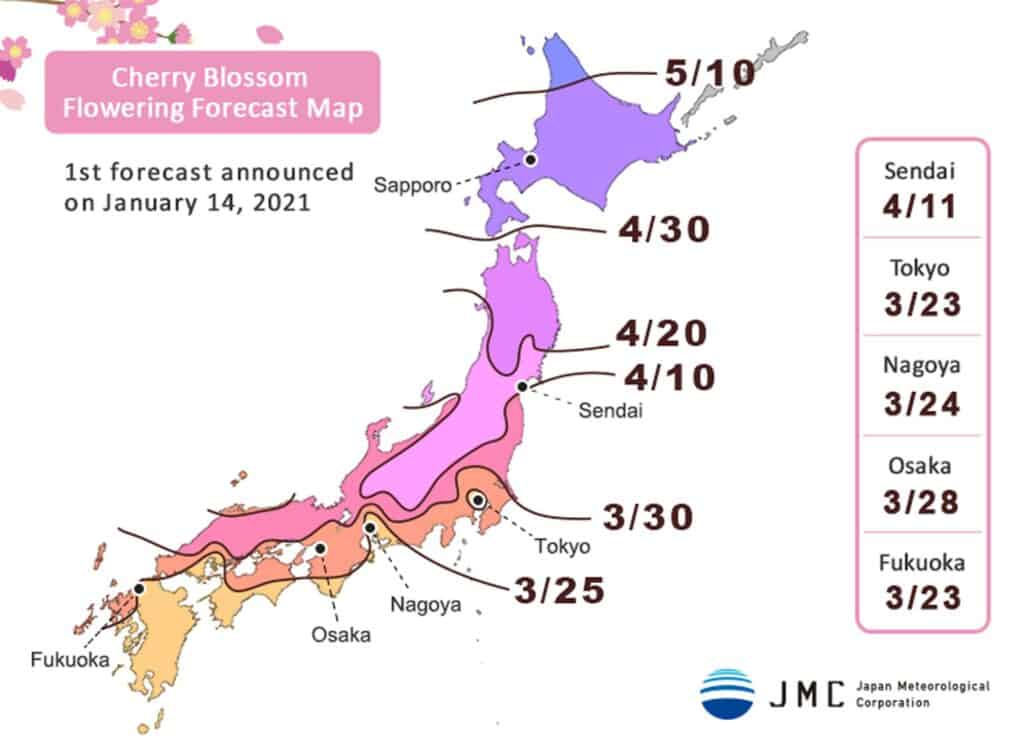 Cherry Blossom Forecast 2021 from the Japan Meteorological Corporation
The first forecasts usually begin to be broadcasted as early as January and are updated as needed according to weather changes. From the forecast, viewers can see that the 2021 cherry blossom season arrived in southern Fukuoka in late March, but blossoms weren't expected to peak in northern Hokkaido until almost mid-May. 
How long will the cherry blossoms bloom for?
Keep in mind that once the blossoms open, cherry blossoms in one region will only bloom for about two weeks! When the last petals begin to fall in an area, sakura-enthusiasts will need to chase them further north if they want to continue enjoying this springtime phenomenon.  
Things to be aware of during the Japanese cherry blossom season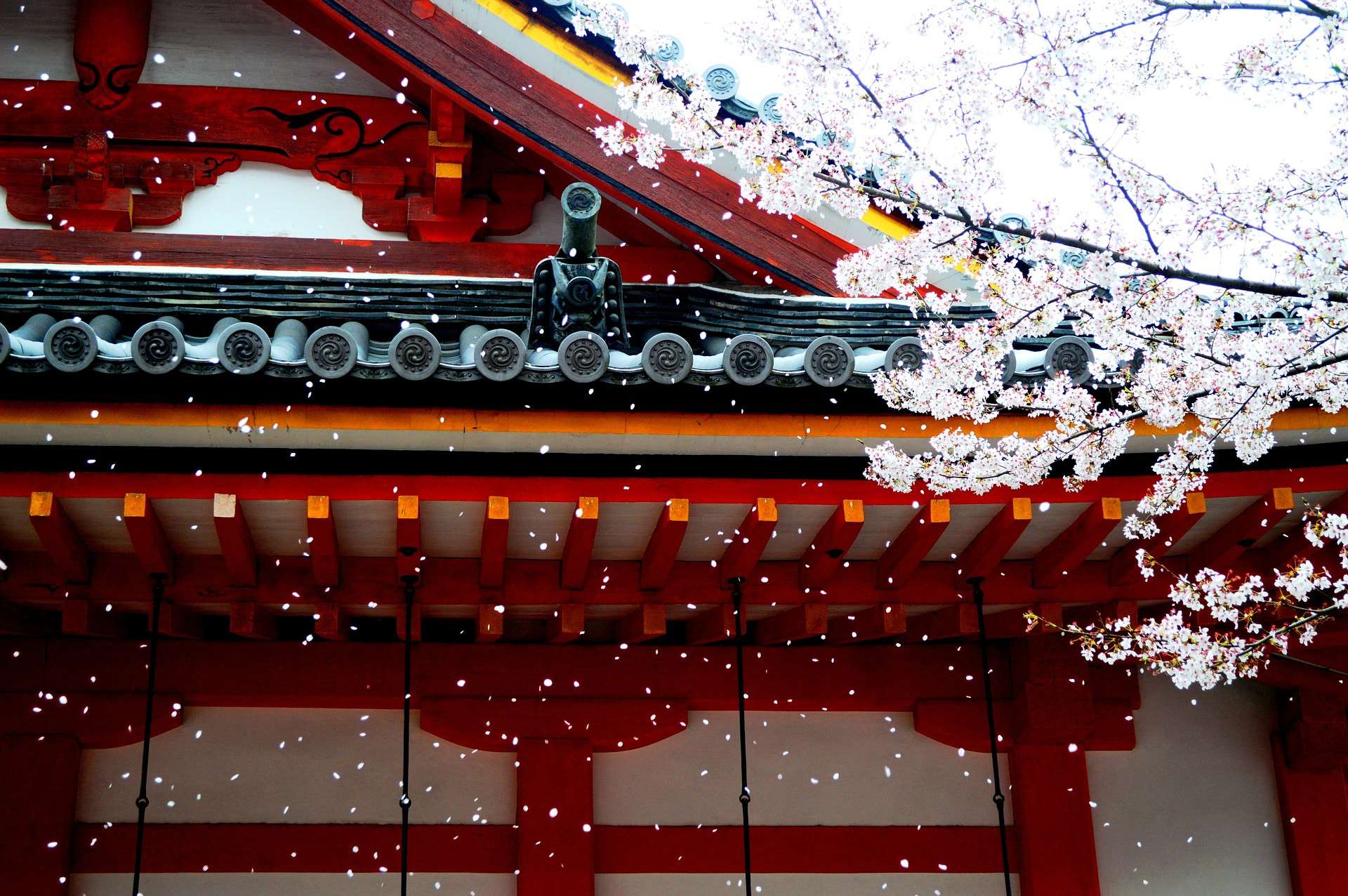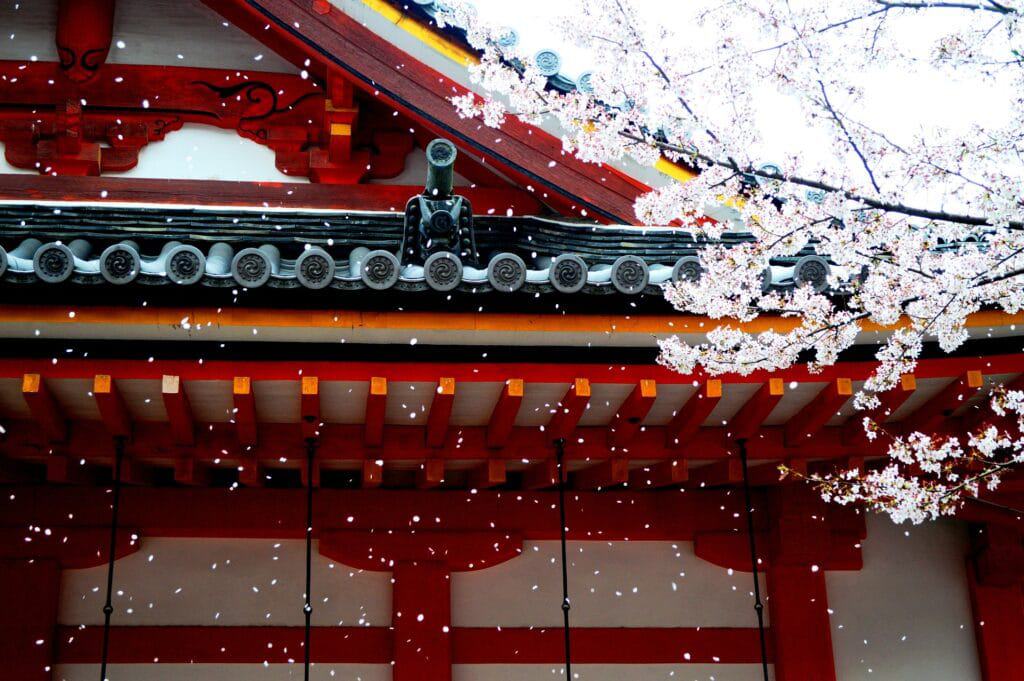 Thrilled for cherry blossom season in Japan? You're not alone! As one of the most celebrated events in Japan, the country experiences a tourism tsunami during the peak months of cherry blossom season.
With sakura enthusiasts flowing into viewing hotspots from around the country and across the globe, visitors should expect massive crowds and long lines. Hotels hit capacity quickly, so reserve your rooms ahead of time through sites such as Booking.com. Know that the most famous and accessible places to view cherry blossoms will be covered in picnic blankets from early in the morning, so claiming a spot of your own will be quite a challenge. 
Experiencing the beauty of cherry blossoms in Japan is a once-in-a-lifetime adventure for many. In order to make the most of your limited time, consider a few tips that will help you bypass the worst of the crowds and savor the best of the cherry blossom magic.
How to enjoy cherry blossom season in Japan despite the crowds
If you don't have a dream hotel in mind, consider booking with Airbnb. You may be able to get better deals and- through the priceless advice of your local host- find lesser-known cherry blossom viewing spots to enjoy the flowers in peace. 
When you know where you want to snap your pictures or host your o-hanami party, be sure to go early! Claim your place with a blanket in the early hours of the morning. Japan is one of the safest countries in the world so you can be relatively sure that your blanket will be there waiting for you when you come back later. 
Other ways to beat the crowds include avoiding the most popular viewing spots- such as hotspots like Maruyama Park in Kyoto and Mount Yoshino in Nara. There are many places in Japan where cherry blossoms can be found, so consider heading off the beaten track and exploring countryside destinations. 
Cherry blossoms, plum blossoms, peach blossoms- oh my!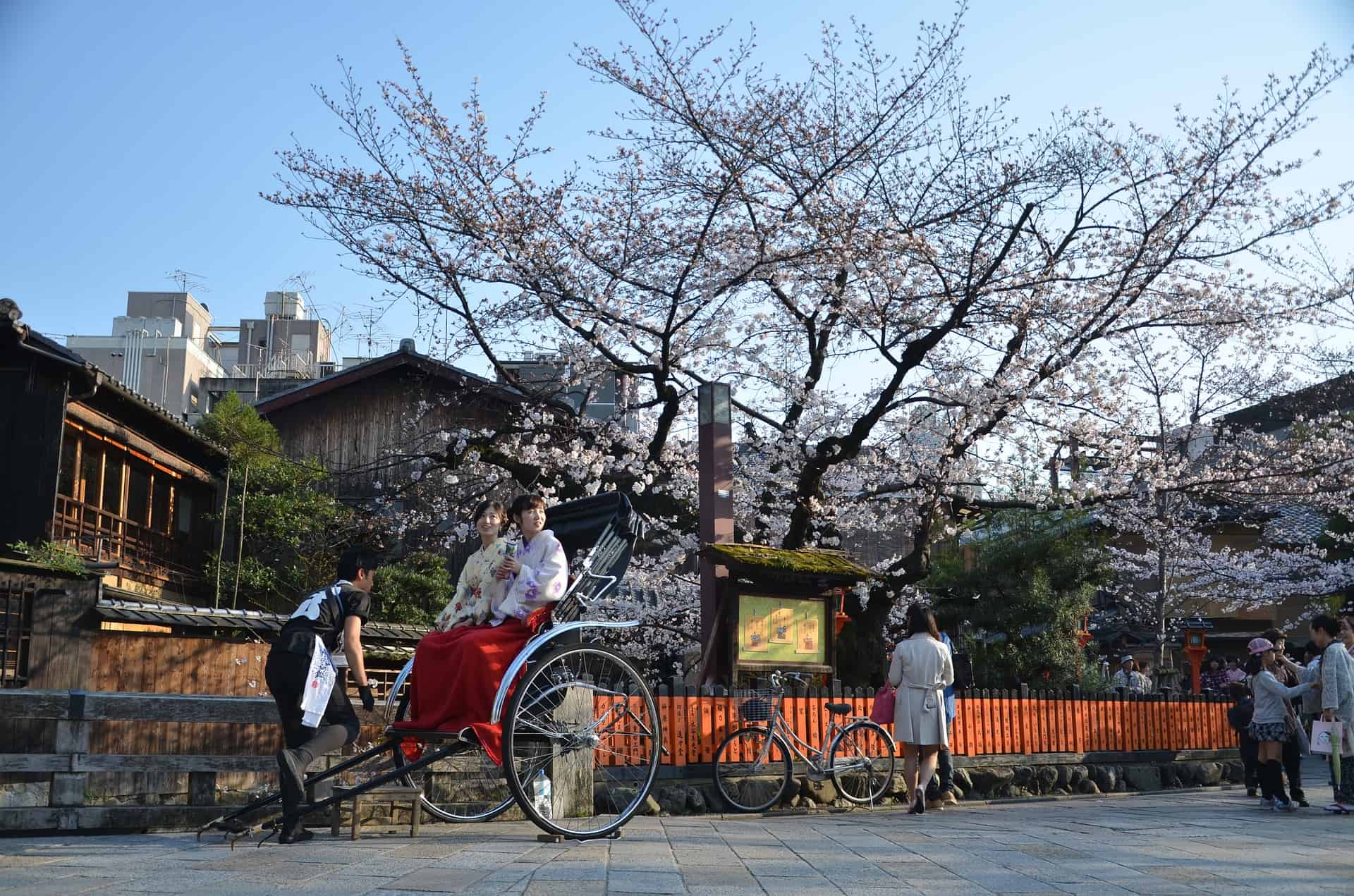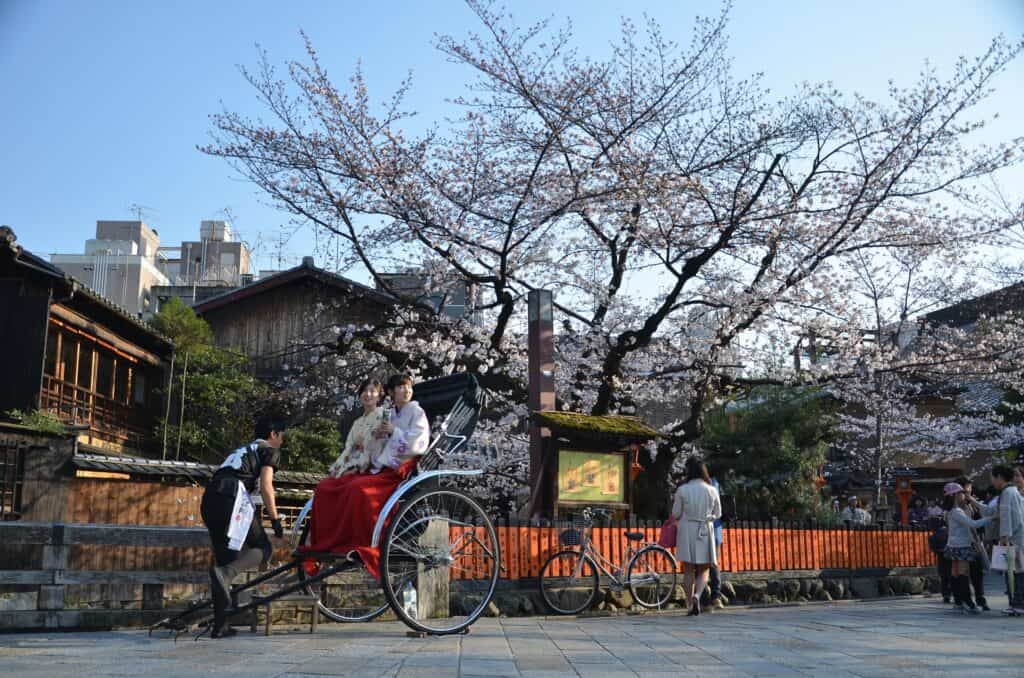 Before tagging your pink wonderland pictures on Instagram, be sure to look closely- many a tourist has been caught unawares by sakura imposters. Remember that just because it's pink doesn't necessarily mean that it's a cherry blossom! 
While all of the beautiful spring blossoms in Japan are worthy of sharing on social media, double-checking before you type #cherryblossom may save you a bit of embarrassment. Here are two other Japanese trees with pink springtime flowers and how you can play sakura detective to tell them apart:
Plum blossoms
Plum blossoms (梅 ume in Japanese) have a five-petal star shape and range in shades of pink from pale white to a rich dark color. They are easily mistaken for cherry blossoms- but while sakura have notched petals, ume petals can be identified by their rounded shape.  
Peach blossoms
Peach blossoms (桃 momo in Japanese) are just as tricky to call out- as they have a similar appeareance and come in shades of pink! However, their color is often more vibrant than other flowering trees. Additionally, momo petals have a unique tapered and slightly pointed appearance that helps to separate them from sakura and ume.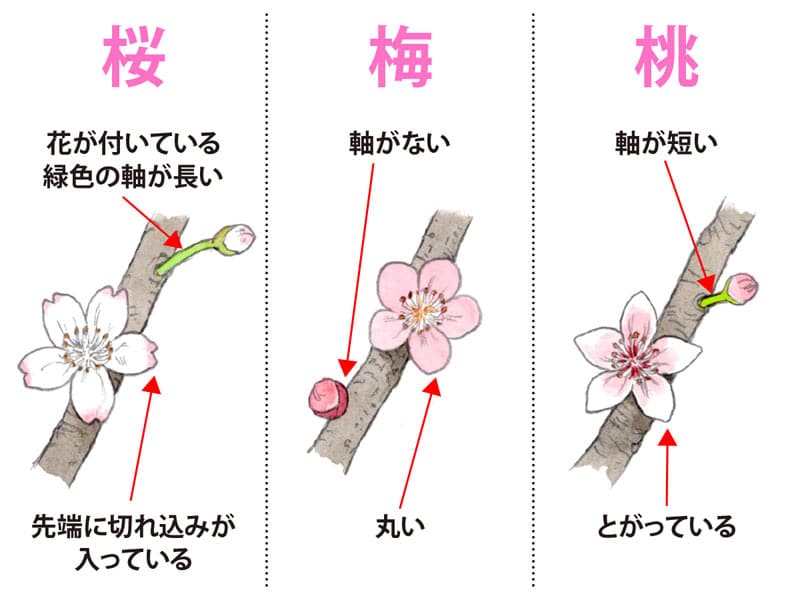 Cherry, plum, and peach blossom comparison from WeatherNews.jp
Can I see cherry blossoms outside of cherry blossom season?
You weren't able to get a spring vacation and missed out on cherry blossom season- a tragedy! But before you cancel your trip, know that it may not be the end of the cherry blossom world. While you may not catch the blossoms on your visit to Japan, you will still have a chance to ride the sakura hype train- regardless of what time of year you are able to visit.
Cherry blossoms are such a beloved aspect of Japanese culture that you can taste it- literally! If you know where to look, there are year-round places throughout Japan where you can claim a piece of the cherry blossom craze for yourself.
Edible cherry blossom treats for every season
From restaurants to food stalls to tourist shops- countless cherry blossom goodies can be found across Japan. Tourists can enjoy pink cherry blossom ice cream or sip tea with delicate sakura petals floating in the cup. Sakura mochi is one of the most popular desserts available and is made from delightfully pink sticky rice wrapped in an edible cherry blossom leaf. 
You may be familiar with the unique line of Kit Kat candy in Japan- but did you know that they also have offer sakura flavored chocolate? Kit Kat Japan offers an entire line of cherry blossom flavors including sakura, sakura mochi, sakura sake, and even sakura soy bean chocolate bars.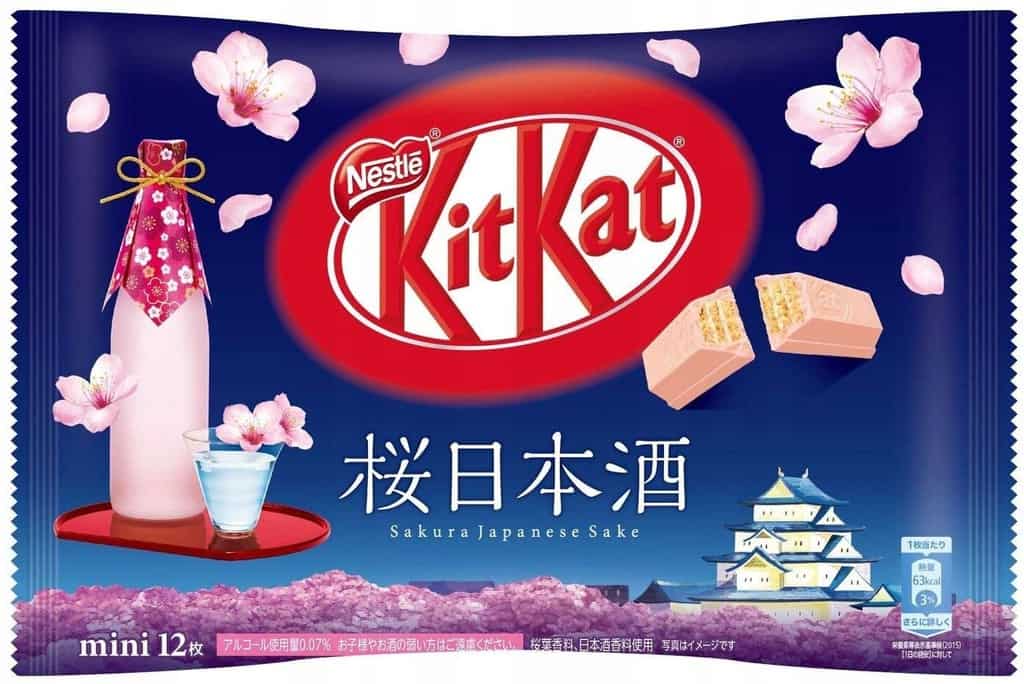 Japan loves to experiment with tastes, textures, and flavors- so with a sharp eye and a bit of gastronomical bravery, you will be able to savor cherry blossoms preserved in many delightful ways on your trip to Japan. 
Sakura:
a year-round symbol of Japan
Cherry blossom season in Japan is such a treasured occasion that the country has adopted sakura as both a National Flower and National Symbol. So if eating cherry blossoms isn't quite your cup of tea, rest assured that you will still be able to enjoy the beauty of this much-beloved flower on your trip to Japan. 
While shops are overflowing with cherry blossom merchandise during the months when the trees are in bloom, sakura-themed goods can be found at any time of the year. In tourist areas such as the Nakamise shopping street in Tokyo or the Teramachi shopping district in Kyoto, souvenir stores catering to foreign visitors feature a variety of cherry blossom goods proudly showing this important symbol of Japan. 
——————————————————————————————————————
If you're dreaming of experiencing cherry blossoms for yourself, remember to time your trip well! Brave the craze or use our tips to avoid the crowds at your very own o-hanami cherry blossom viewing party. 
No matter if you are able to catch the sakura petals in season or you plan to enjoy cherry blossom imagery year-round– we can all treasure the magic of this beautiful symbol of springtime in Japan.
Enjoy!